Finger Lakes Climate Fund
We are happy to announce that NEST is now partnering with the Finger Lakes Climate Fund (FLCF), a regional carbon offsetting fund created by Sustainable Tompkins. We are asking you to join our Carbon Race Team so that each of us can "cancel out" some of the carbon emissions that we produce in our everyday lives. All of the funds raised through us will go to low and moderate income energy improvements in the Greater Binghamton area!
What's a Carbon Race Team?
The carbon races involve different organizations or groups that have created "teams" on the FLCF website and these "teams" compete against each other to see who can contribute the greatest amount of CO2 offsets to the fund. NEST has already gone ahead and created a NY NEST team and we would like you to join it!
Why Should I Join the NY NEST Team?
We are asking you to join us because for every carbon offset that gets donated to our team, that donation amount will go into a pool that will be used to fund energy efficiency projects in local, lower-income households in our area. For example, the funds could be used towards installing a new heat pump system in a low-income household located in one of our service counties of Broome, Tioga, Chenango, and Delaware counties, so that that family can live in a safer, more comfortable home.
I Want to Join... How Do I Do This?
Once you are on the website, make sure that you are on the carbon races page (it should say Carbon Races near the top).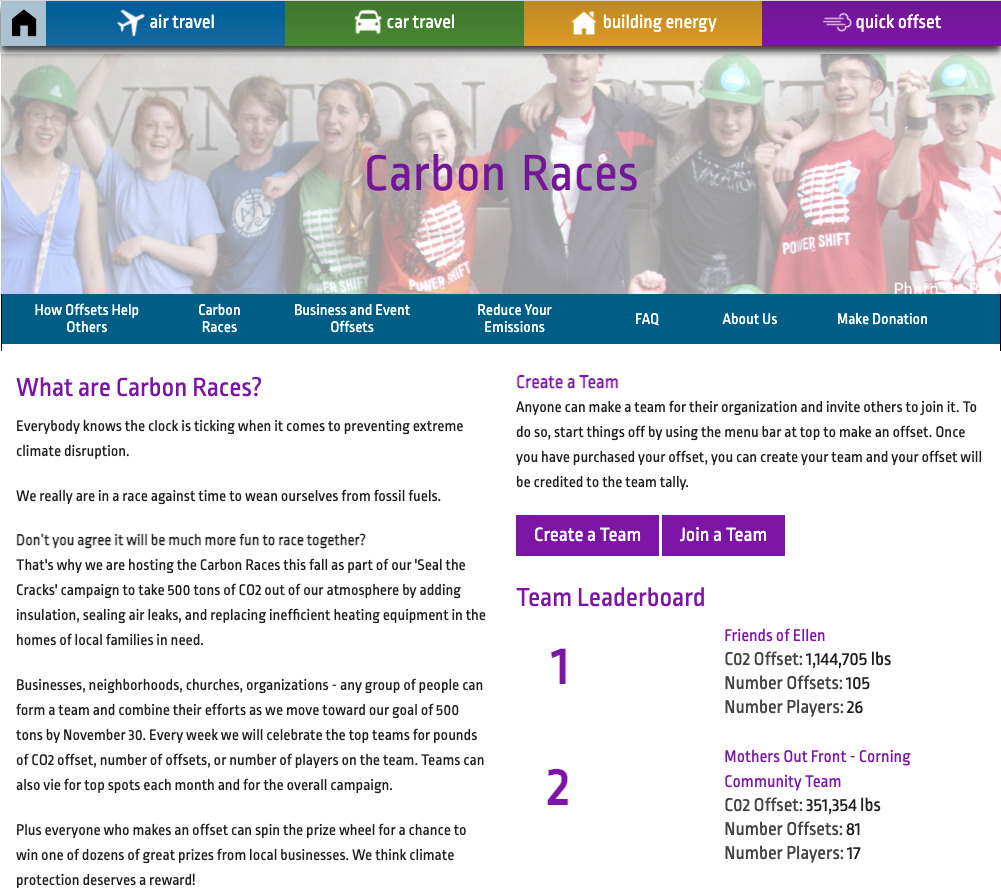 2. Select one of the 4 options are the top of the page (air travel, car travel, building energy, or quick offset), whatever you decide you want to offset for the fund. 
For example, if you are offsetting your car travel from a trip, you would enter your trip mileage and your car MPG and then select "calculate offset".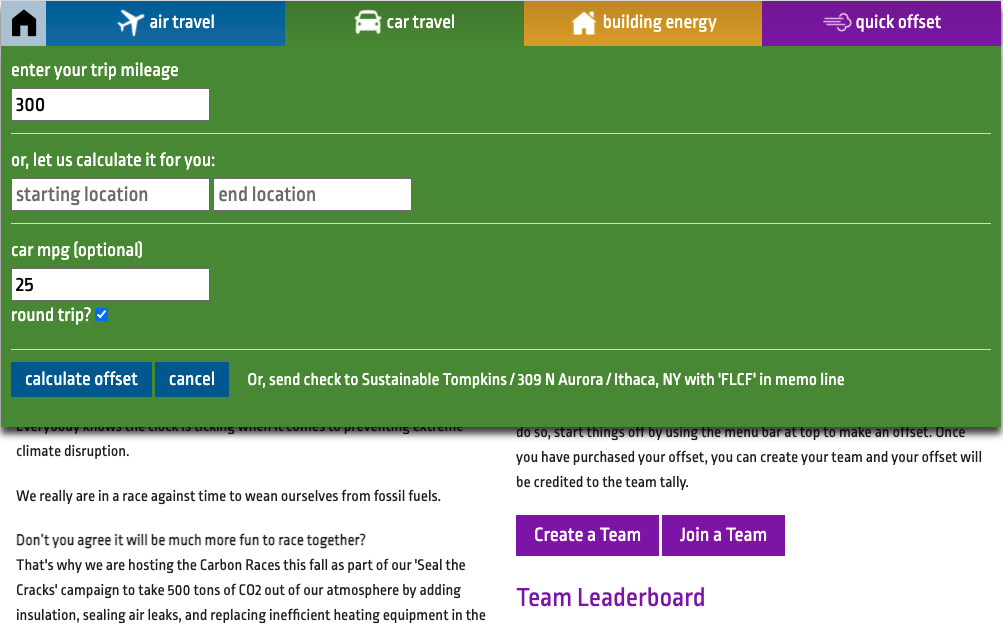 3. Once your offset has been calculated, you have the option to make another offset or go to checkout.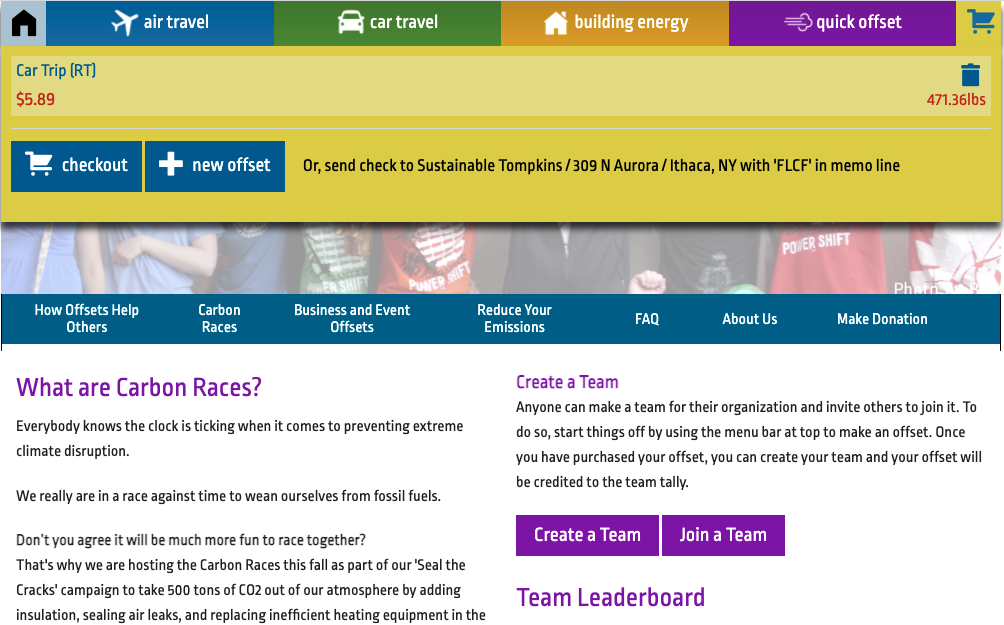 4. When you go to checkout, you will be prompted to add your name and zip code for the records and then select "pay now".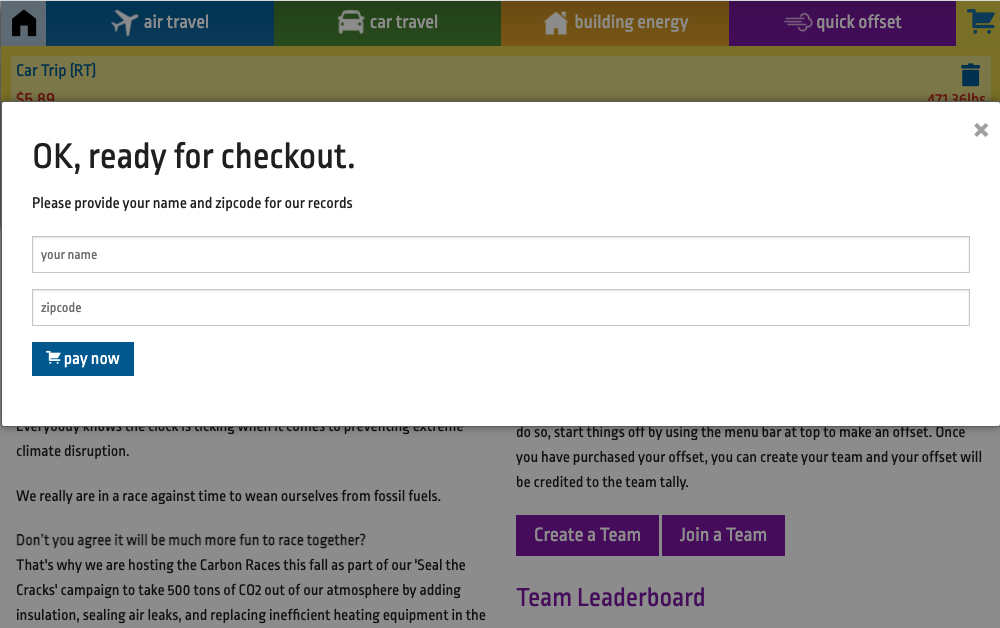 5. Afterwards, you will enter your card information which will be used to pay for the offset and then select "pay".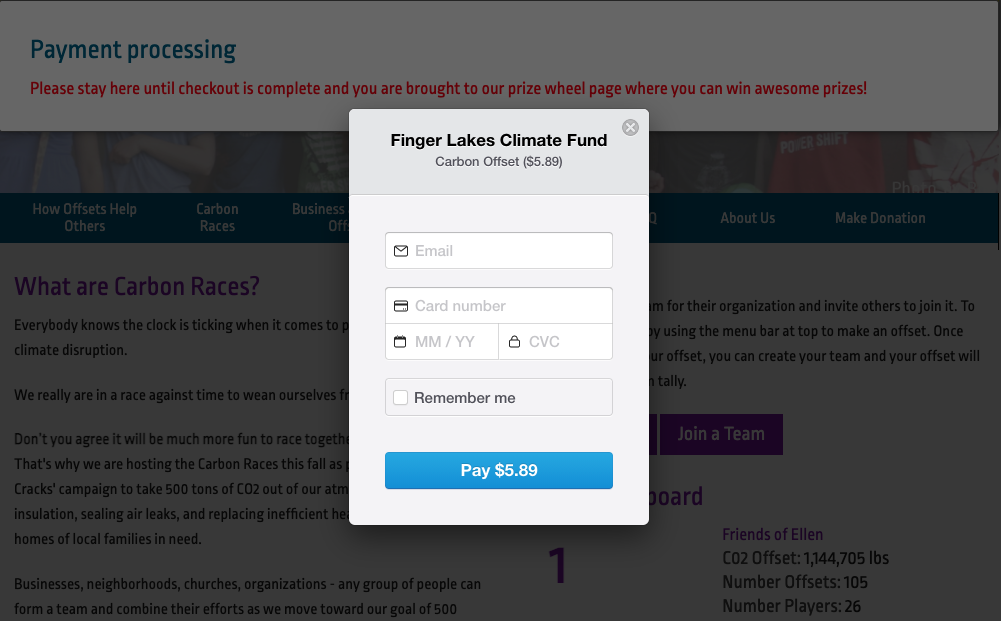 6. Once you pay, it should bring you to another screen where it will ask you what team you would like to join. If you select our team name "NY NEST" then your carbon offset donation will get credited to our team and will be used to fund an energy efficiency project in our very own community!
                       Take a look at some of the energy efficiency improvements that the Finger Lakes Climate Fund has implemented over the years.                                   None of these could be done without the help of carbon offset donations!
Grant Amount: $2,997 
CO2 Offset: 40 Tons 
It's never fun moving into your first home when the heating system has to be fully replaced right away! Devon Clearwater met this challenge when he bought his first home in a nook of a mobile home park in Spencer, NY. He faced a number of issues getting his new place up to par. When Devon moved in, he was spending $200 a month on propane (that's a lot for a small ranch house!), and some rooms didn't even have ducts. He had to lug AC units in and out of windows in the summer, too. Thankfully, he found the cure to these ailments: multizone air source heat pumps! Snug Planet partnered with Devon to reduce his energy bills and get some even heating in his new home. After signing up with a local solar farm in Spencer, NY, he's so happy to live in a net-zero home, all while on a limited budget. Devon works at Goodyear Auto in Ithaca, NY, and is a proud recipient of a $2,997 combined Climate Fund/HeatSmart grant for his new air source heat pump system, keeping 40 tons of CO2 out of the atmosphere.
Grant Amount: $2,286
CO2 Offset: 114 Tons
Kim Stanford grew up in the beautiful valley that runs along Route 38 in the Town of Richford, Tioga County. The family property runs along the west side of the highway and up to the ridge top and an old orchard. The old farmhouse is charming and shaded by mature trees, but that just made the inside seem even more cold and drafty. When Kim returned to take over her parents' home, she struggled to cover the high heating bills. And when her Cornell job became part-time and her furnace was red-tagged due to a cracked heat exchanger, she knew it was time to seek help. Snug Planet installed a high-efficiency furnace, and got to work on sealing the drafts and adding insulation to the attic and walls.  All of this work should keep 114 tons of carbon dioxide out of our atmosphere.  Kim's grant of $2,286 is the thirteenth award from the Climate Fund, and our first grant outside of Tompkins County. Kim expressed her appreciation to the donors of the Fund, and shares their values when it comes to protecting and cherishing our beautiful landscapes and ecosystems. She hopes to open her home as a B&B sometime soon and share the beauty of this setting. Meanwhile, she will be enjoying much lower heating bills and greater comfort as she continues her family's stewardship of this homestead.
Grant Amount: $3,722
CO2 Offset: 71 Tons
When Amanda Russell learned that her furnace was 40 years old and hampering her health, she knew it was time for an upgrade. She has cerebral palsy and due to her autoimmune disease, she needs a stable environment – if it gets too cold or too hot, it can be dangerous! The cost-effective solution was at hand: an air-source heat pump system that will both warm and cool her home with superior cost savings. Snug Planet audited her home in Spencer, NY, and according to Amanda "they went above and beyond for her!" They connected her with the Climate Fund and our new HeatSmart funding so she could afford the new system on a tight budget. Amanda received our 31st Climate Fund grant for $1,772 plus our first LMI HeatSmart grant for $2,000 for a total of $3,722 toward the costs of her new home heating system. Since her mom passed away recently, she has suffered an increased financial and emotional burden living alone in the house they'd purchased together in 2017. Amanda, her kitten Wooly Bear, and poodle mix Little One, are all excited to benefit from the awesome health benefits, immensely reduced energy bills, and positive climate impact of switching to clean energy with heat pumps!