Dickinson Community Solar Project
The Network for a Sustainable Tomorrow is currently working in collaboration with Citizen's Energy to develop a community solar project in Dickinson, NY. This community solar project allows you to subscribe to solar without installation! Your energy will be sourced from an off-site solar farm in the Town of Dickinson. You will support the solar developer with your NYSEG payment and in return, receive a 20% annual discount on your electric bill. Sign up for the project using the form below! If you have any questions, please see our FAQ section or leave a comment.
The Dickinson Community Solar Project is prioritizing residents that earn 80% or less than the area median income for Broome, Chenango, Delaware, and Tioga County. Eligibility for the project depends on your household income, so please use the chart below to see if you are eligible for the program. 
How community solar works: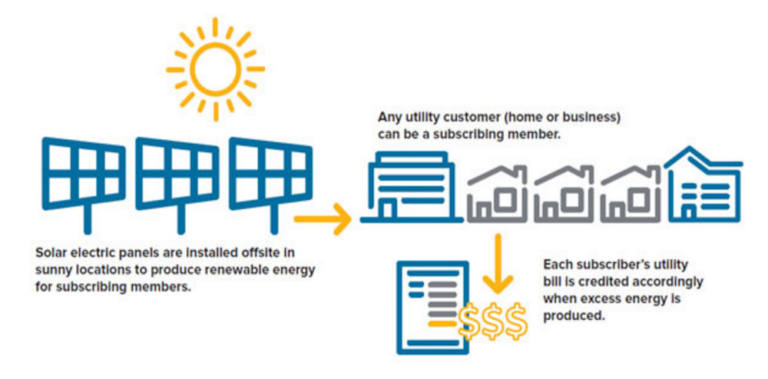 What is Community Solar?Solar panels are installed at a site in your community instead of on individual roofs. The clean energy generated by the community solar project is fed into the local power grid. That reduces the amount of fossil fuels that need to be burned to produce electricity in New York.  Area residents can subscribe to the community solar project and get credits on their regular utility bill for the clean energy produced. Depending on the community solar project size, dozens or even hundreds of community members can subscribe to a single project.
How does the 20% discount work? The discount appears on your bill as a negative charge under miscellaneous charges. You will receive the 20% discount over the course of the year.
Do I need to install anything? No. The community solar project is installed at a site in your area, but nothing needs to be installed at your home. There are no changes to your electric service, no new wires or equipment, and no one needs to come to your home from the utility or program.
If I sign up for this, is it binding? This is not signing a contract, this is getting in a queue. 
How will I get updates about this to actually sign up? We will be in contact periodically to provide updates on the project.
What if I don't know if I qualify for the project? You should still sign up for the project and we will circle back. 
Is there a cap # of people? The project should be able to support 100 people. 
What is a bill credit?Your utility purchases the energy generated by the community solar project and money is distributed to community solar project members in the form of credits that show up on your electricity bill. Your bill will show the credited amount in dollars, and will explain how many kWh (kilowatt-hours) of electricity were generated by your community solar subscription that month.
How soon will I see the discount? Within 4 months traditionally. 
Do I need to do anything to redeem my bill credits? No. The credits will automatically show up on your monthly electricity bill from your utility.
How will the solar energy get to my home? The clean energy generated by the community solar project will be fed into the local power grid operated by your utility. That means a portion of the electricity you already receive from your utility will now come from locally produced solar energy, reducing the amount of fossil fuels burned in New York State.
Am I changing my utility? No. You keep your account with your current electricity provider.
Do I need to let my utility know I'm signing up for this? No. we will inform your utility on your behalf. You don't need to call your utility or switch anything with your electric account. You don't need to provide any information beyond what is in the application.
Who operates the community solar project? Citizen's Energy and NEST.
Will I still have electricity on cloudy days? How about at night? Yes, because you will still be getting your electricity from the grid operated by your utility, you don't need to worry about not having electricity if it isn't sunny outside.
If utility lines go down in my area, will I still have power because I have solar energy? No, you will still have the utility's power lines going into your home. If there is an interruption in utility service, it will still affect your home.
How will I know if I am eligible? Your income level must be below 80% of Area Median Income. Please see the enrollment sheet below for more info.
What is the exact discount? 20% off your electric bill annually.
How do I cancel, are there fees if I do? There are no fees for cancellation. Once you sign a contract, the utility has 90 days to put the credit on your bill. It could take as much as 4 months to see the benefit or quit the project.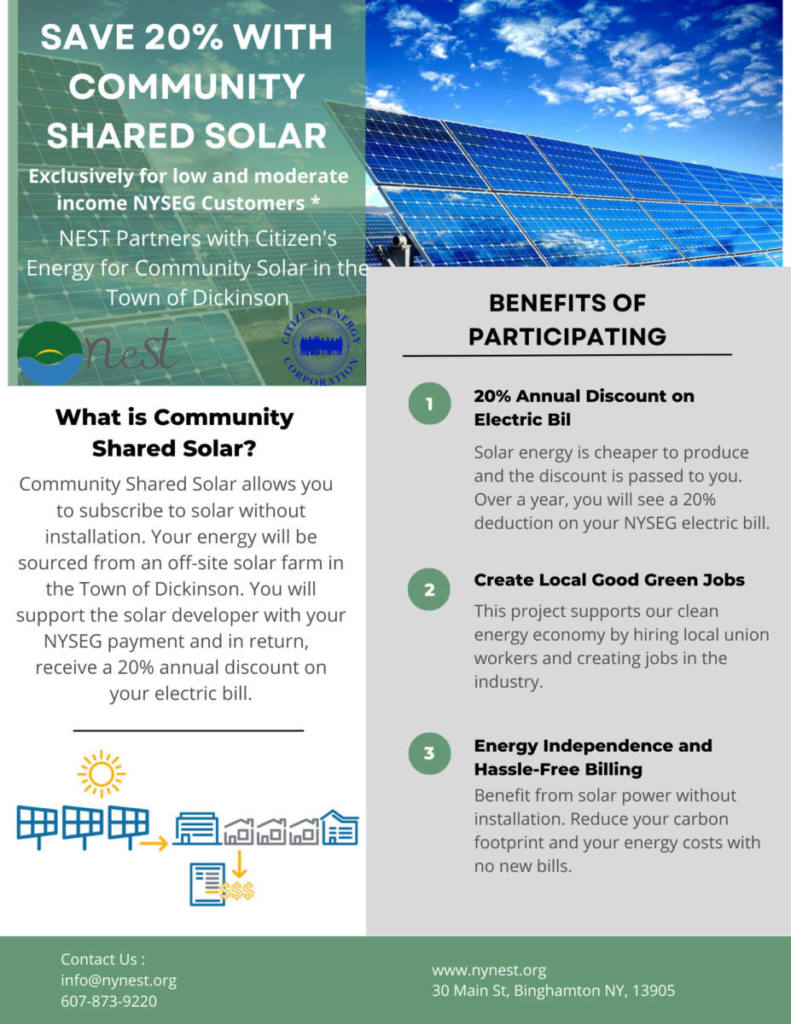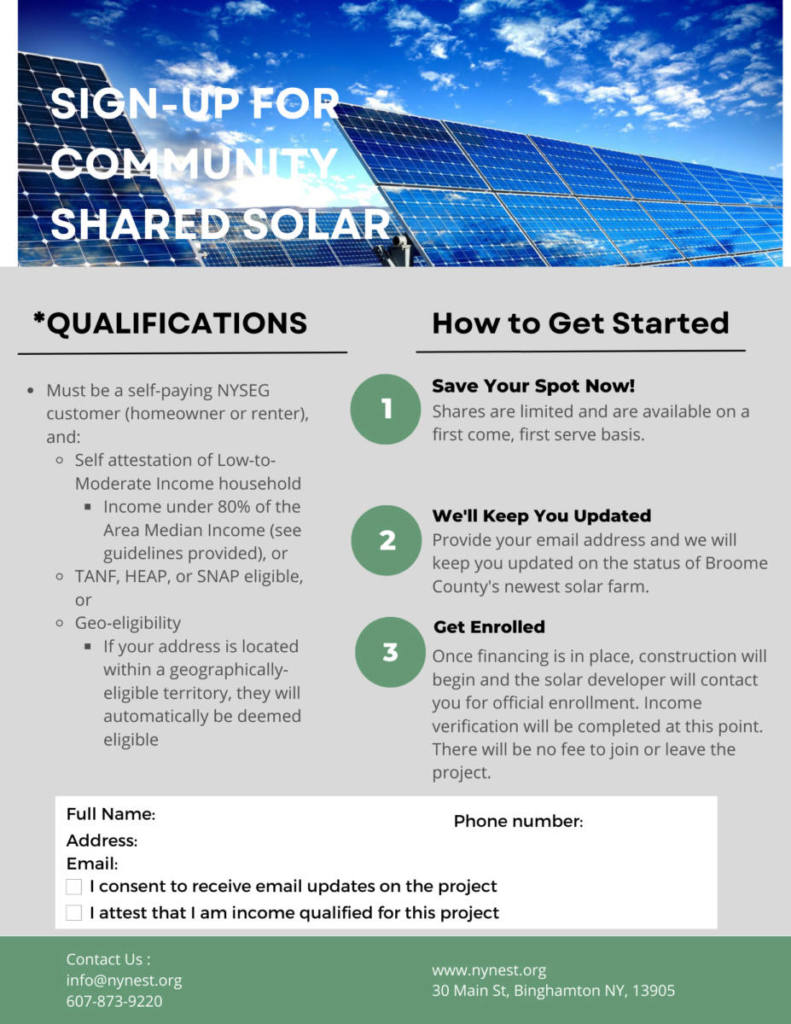 Community Solar Sign-Up Form