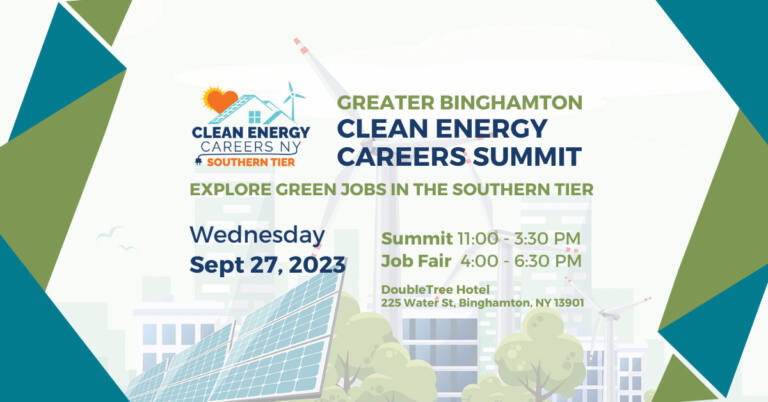 Summit: 11:00 AM – 3:30 PM (SLIDING SCALE FEE)
Job Fair and Networking Reception: 4:00 PM – 6:30 PM (FREE)
The Greater Binghamton Clean Energy Careers Summit will bring together a diverse range of individuals interested in the clean energy industry, including:
Job seekers
Labor leaders
Manufacturers
Contractors and developers
Educational and training professionals
Community-based organizations and service providers
Renewable energy advocates
State agencies
Local government and elected officials
At the Summit, participants can:
Learn about exciting career opportunities in clean energy
Strategize together to address challenges in creating inclusive and comprehensive clean energy career pathways, and set a course for necessary changes
Enjoy lunch provided by Summit hosts
The summit will culminate in a job fair and expo, connecting job seekers and potential employers directly. This provides an invaluable opportunity for job seekers to network, collaborate, and strengthen the clean energy workforce. 
During the job fair, attendees can:
Attend a networking reception
Explore career opportunities and interact with potential employers
Enjoy refreshments available throughout the event
Note: The Job Fair is free and the Summit registration is on a sliding scale to accommodate all participants. When you register for tickets you can choose to attend either or both events.