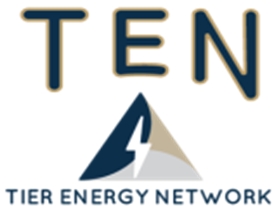 The Tier Energy Network (TEN) is a collaborative of regional organizations, private businesses, government entities, community members, and higher education institutions focused on advancing the Clean Energy Industry.

Members have expertise and interest in innovations in advanced energy technology, energy conservation, efficiency, generation, storage and sustainability.
We help guide innovators and entrepreneurs as they seek mentors, partners, and funding.
Our members participate in regional workforce development and economic development.
TEN promotes and facilitates energy efficient building construction and retrofitting through promotion and education of available government programs.
A 501(c)(3) not-for-profit organization, TEN is helping the Southern Tier Region of New York to develop and accelerate new business development, encourage existing business growth, create new jobs and expand working opportunities.
Web site: https://www.tierenergynetwork.org/
Email: info@tierenergynetwork.org